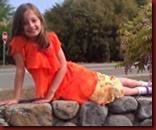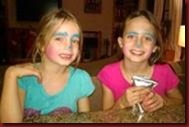 It has been a great year and Anna & Ariel are growing up too fast!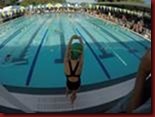 Anna enjoyed 2nd grade and finished the school year performing in the school play, "Character Counts." In the summer she swam, competed in some races and enjoyed British Soccer camp. She really dropped her swim times and excelled at the breast-stroke. She is now 9 and in 3rd grade at Skyridge School. She loves finger knitting & crocheting, something her teacher taught her. Her favorite pastime is reading, and the books are piling up. She's still playing piano and recently performed at a recital. She's also good at cooking and has often made us pancakes and eggs.




Ariel was sad to leave her friends from pre-school. She loved the Kinder Ready program. During the summer, she enjoyed art, playing with her teddies and dolls, riding her bike, helping her parents, and swimming. It was her first season on the Robalos Swim Team - together with her sister. She improved so much. We were amazed that she and Anna both received the Coach's Award at the end of the season.



Ariel lost 3 teeth at once and had quite a large, but cute, gap. She loved getting a new bigger bike for her birthday - she jumped on and took off. She is now 6 and in Kindergarten at Skyridge School. She has become one of the leaders & helpers in her class. At home she's very organized at times, but also can be very messy. Ariel recently did her 2nd 5k. She also likes singing.
The Skyridge Jog-A-Thon was a big success. Robin was the lead again and Troy's "Lap Tracker" mobile app was used again. It was a lot of work but well-worth it to see the kids excited about their accomplishments. Both girls did a great job raising money and Anna made it to the Ironman Circle for running the most laps in her grade.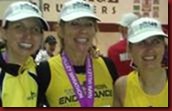 Racing is a big part of our family. The first big event was the Napa Marathon. Robin turned 40 this year and her goal was to get 40 friends ("40 at 40") to also do the Napa Marathon (or any marathon) with her! It was amazing seeing a group of 19 at the starting line, and then hearing the stories as others completed their marathons throughout the year.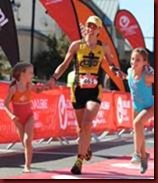 Wildflower Triathlon was a huge success and we were able to share the reason we race, Jesus Christ, with many athletes and supporters. Our local Auburn Triathlon was a special event, especially with World Champion and Challenged Athlete Champion, Jamie Whitmore, speaking at the Iron Prayer. Our church and local FCA Endurance huddle volunteered at aid stations on the course. Robin, the defending champion, was 3rd overall this time. Troy was 4th overall in the shorter Olympic distance race.
At the end of May, Troy was doing great in the Victory Velo Omnium circuit race at Montserrat. With 3 laps to go, he made too fast of a move through a sharp corner and crashed! No one else was hurt but he broke 6 ribs and punctured a lung. Praise the Lord that the healing was fast and he was back racing in 4 weeks and fully recovered in 8 weeks.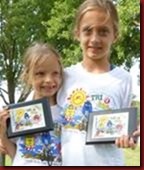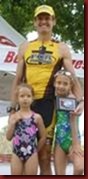 In August, Ariel did her first triathlon, the Kid's Tri at Rancho Seco. It was Anna's 3rd year and she showed her little sister all the things she would need to know. Anna clocked her fastest time, finishing 5th in the 9 yr olds. Ariel, despite being knocked around in the water, had a smile throughout the swim and did terrific getting 4th in the 6 & under age group.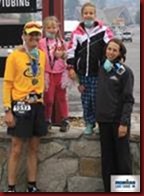 The big race of the year was Troy's Ironman at Lake Tahoe. With its hills and potential cold, it concerned him more than his other 10 Ironmans ever did. After watching Robin endure sub-freezing temps last year, he was pre-pared with many layers! Robin and the girls supported him all season in long training rides and many hours running. He wanted to conquer his fears and show God he was ready to give 100%. But, minutes before starting, it was cancelled. The wind had blown in smoke from the wildfires. As every-one headed home in shock, Team Soares prayed together and then started the Ironman anyway! Troy completed most of it. Fears conquered, goals met, family and friends bonded together and we both felt the Lord's guidance throughout it. Later, Troy raced a marathon in Morgan Hill to complete the Ironman effort.
Troy's work has been quite stressful but he loves what he's doing. He just wants to be less busy and at home more. He loved going to the Father-Daughter dance with Anna and Ariel. Robin organized his Tour De Troy birthday bike race for the 5th year in a row.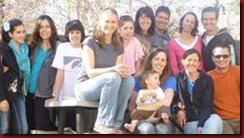 Robin continued doing an awesome job managing the Auburn Tuesday Night Track, Thursday Night Life Group (Bible Study), kids events and, often, Troy, himself! She enjoyed her Survivor 40th birthday party competing in challenges with friends.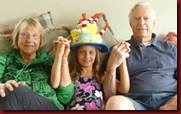 Anna & Ariel spent a week at Discover Bay while Robin & Troy enjoyed the FCA Triathlon Camp in Tucson. For their birthdays, they had another Wipe-out party and enjoyed a day at Six Flags Discovery Kingdom. They also went to San Diego with Robin for the 4th of July.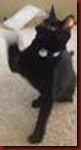 There was also bad news, although not near what some friends have suffered. We lost our kitty, Tracker, despite a big search effort. We still have our cat, Sierra. She's adventurous and loving. Also, our town, Auburn, was rocked by a manhunt that locked-down schools and scared all of us as parents. It made us realize more how fragile life is and we cherished having our girls back in our arms.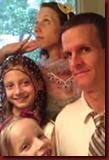 God has blessed our year and also has reminded us for our need of a Savior. This world is unpredictable and fallen and we get caught up in it often. Thankfully, Jesus Christ was born, sent from God, and with Him we can trust our fragile lives and get strength to resist our greedy tendencies. So, at this most wonderful time of the year (which can also be the saddest), we pray that you and your family can find comfort and peace in Jesus and have a very Merry Christmas indeed!